Length: 18,5 km
Dificulty: difficult
Bikes: cross bike, mountain bike

Difficult trail with big super elevation in both directions, leads between Hvězda and Švýcárna on the road, after that leads on the forest road. One of the most visited places in Czech Republic. We recommend inform about actual weather forecast.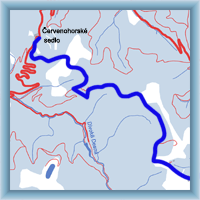 Click to show full-size map
| | | | | |
| --- | --- | --- | --- | --- |
| Dist. | Location | Elevation | Marking | Description |
| 0,0 | Hvězda | 850 m n.m. | | cycle way 6075 |
| 5,5 | Ovčárna | 1250 m n.m. | | cycle way 6075 |
| 6,5 | Barborka | 1320 m n.m. | | cycle way 6075 |
| 8,0 | Praděd, cross road | 1420 m n.m. | | cycle way 6075 |
| 10,5 | Švýcárna | 1300 m n.m. | | cycle way 6075 |
| 14,0 | Petrovka | 1050 m n.m. | | cycle way 6075, cross road with trail 6157 |
| 18,5 | Gap Červenohorské sedlo | 1012 m n.m. | | cycle way 6075 |
| | |
| --- | --- |
| | crossroad of roads by Karlova Studánka with resthouse and parking area |
| | hotel with restaurant |
| | cottage |
| | mountain cottage |
| | mountain gap between Praděd and Keprník |