Length: 27,5 km
Dificulty: difficult
Bikes: cross bike, mountain bike

The trail runs on south part of the Eagle Mountains, part of trail on road of III. class, partly on paved the roads. Leads on the beautifull wooded countryside, in very nice northern stretch of slope Suchý hill and in beautifull section between Mladkov and Lichkov.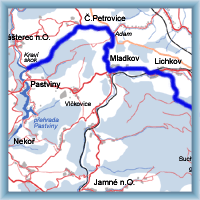 Click to show full-size map
| | | | | |
| --- | --- | --- | --- | --- |
| Dist. | Location | Elevation | Marking | Description |
| 0,0 | Králíky | 580 m n.m. | | cycle way no. 4077 |
| 3,0 | Dolní Orlice, crossroad of cycle way | 590 m n.m. | | cycle way no. 4077 |
| 4,0 | Šanov, church | 560 m n.m. | | cycle way no. 4077 |
| 5,0 | Červená Voda, crossroad to railway station | 540 m n.m. | | cycle way no. 4077 |
| 5,5 | Červená Voda | 520 m n.m. | | cycle way no. 4077 |
| 7,0 | Horní Boříkovice, crossroad | 605 m n.m. | | cycle way no. 4077 |
| 15,0 | Lichkov | 525 m n.m. | | cycle way no. 4077 |
| 17,0 | Mladkov | 505 m n.m. | | cycle way no. 4077 |
| 20,5 | Adam | 740 m n.m. | | cycle way no. 4077 |
| 23,0 | České Petrovice | 630 m n.m. | | cycle way no. 4077 |
| 27,0 | Kraví skok | 475 m n.m. | | |