Length: 39 km
Dificulty: medium
Bikes: cross bike, mountain bike

Middle difficult trace leads on roads, cycle ways and paved paths.
It is possible to make a turns from the main trace and extend the route of more than 6 kilometers.
The route starts and finish in Doksy by lake Máchovo jezero, where is possible to swimm.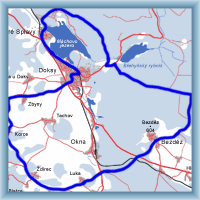 Click to show full-size map
| | | | | |
| --- | --- | --- | --- | --- |
| Dist. | Location | Elevation | Marking | Description |
| 0,0 | Doksy | 276 m n.m. | | |
| 3,9 | Staré Splavy | 290 m n.m. | | paved roads, close to the road |
| 9,9 | Crossroad with road Mariánská | 275 m n.m. | | road Mariánská cesta, cycle way no. 3045 |
| 19,1 | Bezděz | 420 m n.m. | | keep straight at crossroad no. 273, do not turn |
| 24,5 | Luka | 320 m n.m. | | First go on the road through the village, then follow the green |
| 32,7 | Korce | 350 m n.m. | | |
| 34,6 | Zbyny | 300 m n.m. | | road no. 270 |
| 39,0 | Doksy | 276 m n.m. | | |
| | |
| --- | --- |
| | round lake Máchovo jezero, it is possible to turn on yellow path to peak Borný (446 m.) |
| | around tower Starosvětská věž |
| | it is possible to turn to peak Korecký vrch (465 m) |