Length: 40,3 km
Dificulty: difficult
Bikes: cross bike, mountain bike

This middle difficult - difficult trace take us between beutifull sand rocks of PLA Kokořínsko and to castle Houska and Kokořín.
Straight sections leads on road interchange with difficult parts, which follows tourist market paths. You will see the most beutifull parts of this area.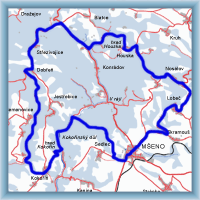 Click to show full-size map
| | | | | |
| --- | --- | --- | --- | --- |
| Dist. | Location | Elevation | Marking | Description |
| 0,0 | Mšeno | 358 m n.m. | | road no. 273 |
| 6,0 | Lobeč | 350 m n.m. | | road no. 273 |
| 8,1 | Restaurant U Nás | 390 m n.m. | | cycle way no. 143 |
| 9,6 | Nosálov (crossroad with blue) | 440 m n.m. | | cycle way no. 0002 |
| 13,5 | Hrad Houska | 431 m n.m. | | cycle way no. 0003, steep descent |
| 16,0 | Tubož | 300 m n.m. | | cycle way no. 211, turn left after 4 km |
| 22,9 | Střezivojice | 380 m n.m. | | continue through village |
| 24,4 | Dobřeň | 330 m n.m. | | cycle way no. 0011 |
| 31,7 | Crossroad of blue and yellow | 250 m n.m. | | cycle way no. 0010 |
| 33,3 | Kokořín | 333 m n.m. | | cycle way no. 0010 |
| 35,5 | Crossroad under the castle Kokořín | 250 m n.m. | | cycle way no. 42 |
| 37,6 | Crossroad of blue and red | 250 m n.m. | | cycle way no. 0009 |
| 40,3 | Mšeno | 358 m n.m. | | road no. 273 |
| | |
| --- | --- |
| | hilly terain over the peak Horka (385 m) |
| | rising around peak Vratenská hora, then hilly terrain |
| | it is possible to visit castle Houska |
| | steep descent |