Length: 6,8 km
Dificulty: difficult
Circle: NO, Marking: marked

The trip starts in the village Mezní Louka near the hotel. From here it goes down the road by the red track (nature trail around Hřensko). At first, the path leads almost flat to the forest, after about 2 kilometers it reaches the first rocks. Further, the route is steeply rising. Part of it runs along the carved steps and footpaths. We continue on almost the contour of the Křídelní stěna with beautiful views of both the Bohemian Switzerland region and the rock formations such as the Jehla Tower. Still on the contour, we get to the junction below the Pravčická Brána (Gate). There is a small branch track with several serpentines to the Sokolí Nest restaurant right under the bend of the Pravčická Gate. From here we go back to the crossroads and continue along the red track around the cave of the Czech Brothers downhill along a stony forest path that leads to a place called Tři Prameny (Three Springs). From here it continues by a car road back to Hřensko.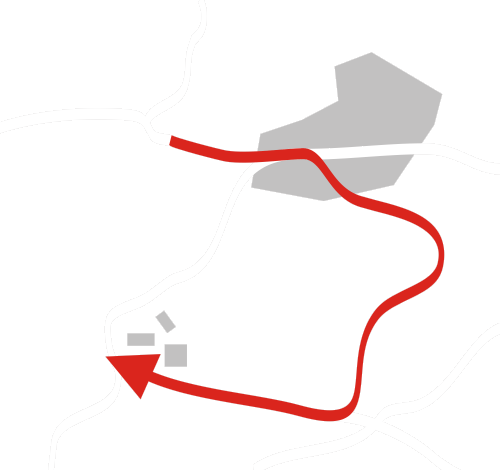 See the map
| | | | | |
| --- | --- | --- | --- | --- |
| Dist. | Location | Elevation | Marking | Description |
| 0,0 | Mezní Louka | 281 m n.m. | | crossroad of blue, yellow and green routes and cyclo route 21 |
| 2,5 | Křídelní stěna | 404 m n.m. | | |
| 4,4 | Pravčická brána | 350 m n.m. | | |
| 5,3 | Tři prameny crossroad | 216 m n.m. | | crossroad with cyclo route 21 |
| 6,8 | Hřensko - hotel Klepáč | 169 m n.m. | | crossroad with green route |
More photos from around the route:

| | |
| --- | --- |
| | Mezní Louka - Mezní Louka - originally a forestry, since 1892 a spa changed into a hotel. It is an important crossing of hiking trails and one of the starting points of the educational trail leading to the Pravčická Brána. On the road to Hrensko there is the so-called Gypsy spruce, a huge specimen of spruce 30m tall and about 200 years old. |
| | Křídelní stěna (The Wing Wall) - The Wing Wall are steep rocks (456 m), lined by a path from Pravčická Gate to Mezní Louka. During weathering, a typical honeycomb surface was created. |
| | Pravčická Brána - Pravčická Gate is the most famous and most admired rock formation in Bohemian Switzerland and the symbol of the whole area, the largest natural rock gate on our continent, a national natural monument. The bottom of Pravčická gate is 415m above sea level. Its dimensions are praiseworthy: span of the arc at the bottom 26.5m, height of the hole 16m, width 7-8m and minimum thickness 3m. The top platform of the gate is 21m above its bottom. Due to the fact that the visitors to the Pravčická brána had damaged it the entrance to its own rock bridge was closed in 1980. However, the rocky outlooks in its immediate proximity are accessible, from where there is a beautiful view not only of the gate, but also of other landmarks of Bohemian and Saxon Switzerland. On the site of the original oak cottage, providing simple refreshments, Clary-Aldringen in the 1850s built a picturesque mansion of the Falcon Nest with a restaurant, almost glued to a sandstone rock wall, designed for prominent guests. Today the original interiors have been preserved in the building, and the building of the Museum of Bohemian Switzerland is planned on the first floor. |