Funiculars and ski centres
Bohemian-Moravian Highlands, Žďár Peaks, Iron Mountains
Ski centres
Ski Karasín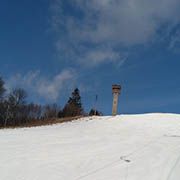 Ski-centre by the village Karasín near Bystřice nad Pernštejnem. The operation of the ski resort was interrupted
Ski resort Harusák Nové Město na Moravě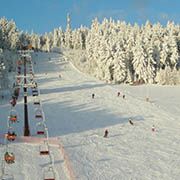 Place:
Nové Město na Moravě
Ski centre near the Mové Město na Moravě, an important ski centre of Českomoravská highlands. There are racing and tourist running routes, 3 ski lifts with technical snow, parking place for 600 cars, ski rent and cloakroom. Ski-centre is noted for ski races Golden ski and races of world cups.
Out of operation
Ski resort Bystré - Hamry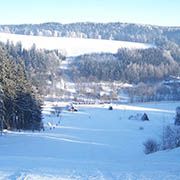 Ski resort in the area of the Bohemian-Moravian Highlands in the nature park in the village Hamry, approximately 3 km from the village Bystré u Poličky, at an altitude of 620 m. The location of the slope is NNE.
Ski Mrákotín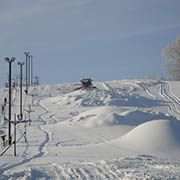 Ski centre in the village Mrákotín offers 2 ski lifts and 2 downhill courses. Night skiing, the surroundings is ideal for cross-country skiing lovers.